Restaurants & Bars
Embark on a culinary journey showcasing innovative cuisine from around the world. Savour a delicious range of international delicacies in any our delightful restaurants, enjoy refreshing cocktails in our themed bars, and feast on mouth-watering snacks at our amazing Sports Bar or Snack Bar. Take the time to enjoy the wonderful aroma of great Dominican coffee while you pamper your palate with an exquisite dessert. With 24-hour room service, you can indulge in the comfort of your own room or suite, as you delight in the Dominican Republic´s awe-inspiring sunrises, sunsets and starlit evenings.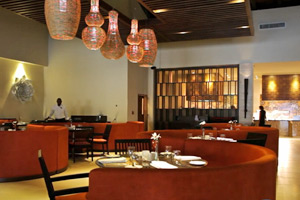 Gourmet MarchÉ
International Cuisine
Discover the freshest local ingredients and enjoy a wide selection local and international flavors, also offering fresh fruit juices, a special kids buffet area and healthy options. Dress code: Evening casual.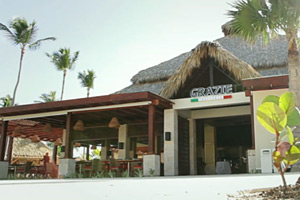 Grazie
Italian Trattoria
Enjoy a wide range of Italian cuisine at this delicious trattoria. Its authentic design and traditional menu make this restaurant the perfect place for families to enjoy well-known Italian comfort food. Dress code: Evening casual.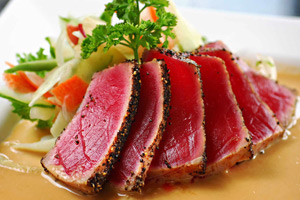 Jade
Asian Fusion Cuisine
Impressive design sets the mood for an authentic fusion experience. Discover the best of Asian cuisine and fresh sushi at this unique à la carte dining experience.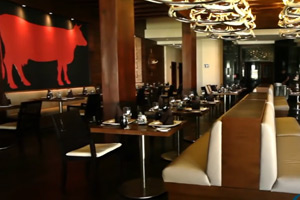 Hunter
Steak House
This unique restaurant offers guests a grand steakhouse experience. Watch chefs in the open kitchen as they perfectly prepare your steak. Dress code: Evening casual.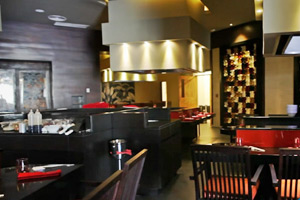 Zen
Teppanyaki
Be amazed by the flavour and technique of masterfully prepared teppaenyaki as it happens right before your eyes. Dress code: Evening casual.
Score Sports Bay and Lounge - Pub & Grill
In a casual atmosphere savor an ever-evolving menu of grilled specialties for a comfortable and familiar meal.
International Drinks
You'll never miss an important game with our exclusive "Sports Event Guarantee". They air top US and International events at their Sports Bar "Score", so take your place in front of their big screens and order from their extensive menu of snacks, grill specialties, and international drinks. Their guests are never far from refreshments with their 10 on-site themed bars. From the lobby to the beach and from the swim-up pool bar to the martini bar and their Disco, They've got a wide selection of specialty cocktails, international and local brand liquors, beers, and house wines.
Bars include:
Lobby Bar, Score Bar & Lounge, Martini Mix, Diamond Club Lounge*, Diamond Club Beach Bar*, Dips Swim-up Bar, and XS Disco Bar. *Exclusive to Diamond Club only.
Royalton guests also enjoy full access to the following restaurants at Memories Splash Punta Cana located next door:
Selections - Discover delicious local and international dishes, prepared with fresh, authentic ingredients, served up in our main buffet restaurant. This rich buffet also features fresh fruit juices, a special kids buffet area, and healthy options.
Breakfast - Lunch - Dinner | A/C | Dress code: Evening casual.
Under the Sea International Cuisine - Adventure is the specialty of the house at Splash World Restaurant. Spend dinner with your family enjoying delicious cuisine surrounded by hundreds of exotic fish.
Dress code: Evening casual.
Bella Cucina - Soak up the romance of the Italian for dinner as you revel in the rich flavours and enticing aromas of the Italian countryside.
Dress code: Evening casual.
Mexicana Cantina - Enjoy a fusion of indigenous Mesoamerican cooking with European - mainly Spanish influences - for dinner. UNESCO added Mexican cuisine to its list of the world's "intangible cultural heritage," making meals at this restaurant a cultural education.
Dress code: Evening casual.
Cafes & More
Bites:
Enjoy light and tasty snacks in a relaxing atmosphere.
Caffe Lounge:
Delight in a selection of baked breads, pastries, cakes, ice cream, cappuccino and espresso.
Scoops:
Stay refreshed after sun-kissed afternoons with a wide selection of parlour favourites.